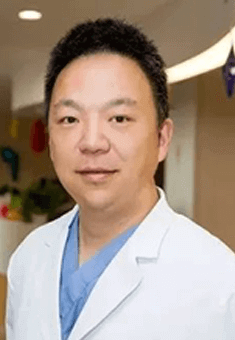 个人概括
赵元立,首都医科大学附属北京天坛医院神经外科主任医师、教授,博士生导师,2015年起兼任北京大学国际医院神经外科主任。
作为骨干成员参加了多项脑血管病课题组工作,包括国家九五、十五攻关计划和十一五科技支撑计划。率先推广神经导航等微创技术,同时从事了一系列脑血管病发病机制的研究,包括颅内囊性动脉瘤及脑血管畸形的形成和破裂机制等。累计发表论文60余篇,累计影响因子40分以上,参编多部专著编写。兼任全国青联委员,中华医学会神经外科学分会工作秘书、青年委员会副主任委员。目前主要从事脑血管病和颅内肿瘤的诊断治疗和基础研究。目前主要从事脑血管病和颅内肿瘤的诊断治疗和研究,在国内率先开展神经导航手术,联合术中功能导航、超声及电生理技术实施脑血管畸形及深部功能区病变手术,最大限度保护神经功能;率先开展血管内介入技术辅助显微神经外科手术治疗复杂、巨大脑动静脉畸形,有效减少术中出血及神经功能损伤;在国内较早关注并推广脑血管外科神经重症监护技术及神经重症监护单元建设,参与制定国内第一版神经外科重症管理专家共识。
教育和工作经历
1988-1996 中国协和医科大学(八年制) 医学博士学位
所获奖项
2009

年 颅脑手术中脑认知功能保护的微创神经外科学基础研究与临床应用 获国家科技进步二等奖;

2007

年 微创神经外科技术平台建立及术中神经功能保护研究 获中华医学科技一等奖。
代表性论文
Original articles
1. Ma, L., Chen, X. L., Chen, Y., Wu, C. X., Ma, J. & Zhao, Y. L*. Subsequent haemorrhage in children with untreated brain arteriovenous malformation: Higher risk with unbalanced inflow and outflow angioarchitecture. Eur Radiol,2017. 27, 2868-2876.
2. Ma L, Kim H, Chen XL, Wu CX, Ma J, Su H, Zhao Y*. Morbidity after Hemorrhage in Children with Untreated Brain Arteriovenous Malformation. Cerebrovasc Dis, 2017.43, 231-241.
3. Chen XL, Chen Y, Ma L, Burkhardt JK, Wardell T, Wang C, Guo G, Wang S, Zhao YL*. Translucent Appearance of Middle Cerebral Artery Bifurcation Aneurysms Is Risk Factor for Intraoperative Aneurysm Rupture During Clipping. World Neurosurg, 2017. 101, 149-154.
4. Wang L, Ye X, Hao Q, Chen Y, Chen X, Wang H, Wang R, Zhao Y*, Zhao J. Comparison of Two Three-Dimensional Printed Models of Complex Intracranial Aneurysms for Surgical Simulation. World Neurosurg, 2017. 103, 671-679.
5. Zhao, Y., Zhang, Q., Zhang, D. & Zhao, Y*. Effect of Aspirin in Postoperative Management of Adult Ischemic Moyamoya Disease. World Neurosurg, 2017. 105, 728-731
6. Wang, X., Hao, Q., Zhao, Y*., Guo, Y*. & Ge, W*. Dysregulation of cell-cell interactions in brain arteriovenous malformations: A quantitative proteomic study. Proteomics Clin Appl, 2017. 11.
7. Hao Q, Chen XL, Ma L, Ye X, Wang H, Wang TT, Hu Y, Zhao YL*. In vitro characteristics of endothelial cells prepared from human cerebral arteriovenous malformation lesions using a novel method. Microvasc Res, 2017. 116, 57-63.
8. An J, Wang L, Zhao Y, Hao Q, Zhang Y, Zhang J, Yang C, Liu L, Wang W, Fang D, Lu T, Gao Y*. Effects of FSTL1 on cell proliferation in breast cancer cell line MDAMB231 and its brain metastatic variant MDAMB231BR. Oncol Rep,2017. 38, 3001-3010.
9. Chen X, Cooke DL, Saloner D, Nelson J, Su H, Lawton MT, Hess C, Tihan T, Zhao Y, *Kim H. Higher Flow Is Present in Unruptured Arteriovenous Malformations With Silent Intralesional Microhemorrhages. Stroke, 2017. 48, 2881-2884.
10. Ma L , Chen XL, Ma J, Zhao YL* The Associated Venous Anomalies Variant and Adjacent Brain Function on Iron Sensitive Image Indicate Surgical Risk of Cavernous Malformation. Neurol Med Chir (Tokyo). 2016,56(1):9-20.
11. Deng K# , Ye X# , Yang Y , Liu M , Ayyad A , Zhao Y , Yuan Y , Zhao J , Xu T*.Evaluation of efficacy and biocompatibility of a new absorbable synthetic substitute as a dural on lay graft in a large animal model. Neurol Res. 2016. 38(9), 799-808.
12. Geng Guo, Cheng-liang Zhong, Yang Liu, Xing-gangMao, Zheng Zhang, Yuan-li Zhao*. Overexpression of FRAT1 Is Associated with Malignant Phenotype and Poor Prognosis in Human Gliomas . Disease Markers. 2015. 289750, 1-8.
13. Hongji Wu, Tao Yu, Shuo Wang, Jizong Zhao, Yuanli Zhao*. Surgical Treatment of Cerebellar Cavernous Malformations: A Single-Center Experience . WORLD NEUROSURGERY. 2015. 84(4), 1103-1111 .
14. Zheng Huang, Xuehu Ding, Weidong Men, Dong Zhang, Yuanli Zhao*. Clinical features and outcomes in 154 patients with haemorrhagic moyamoya disease: comparison of conservative treatment and surgical revascularization. Neurol Res. 2015. 37(10), 886-92 .
L. Ma, Z. Huang, X.-L. Chen, J. Ma, X.-J. Liu, H. Wang, X. Ye, S.-L. Wang, Y. Cao, S. Wang, Y.-L. Zhao*, and J.-Z. Zhao. Periventricular Location as a Risk Factor for Hemorrhage and Severe Clinical .
Presentation in Pediatric Patients with Untreated Brain Arteriovenous Malformations. American journal of neuroradiology. 2015. 36(8), 1550-7.
16. Bai Jie,Wang Ya-Jie,Liu Li,Zhao Yuan-Li*.Ephrin B2 and EphB4 selectively mark arterial and venous vessels in cerebral arteriovenous malformation.. Journal of International Medical Research. 2014. 42(2), 405-415.
17. Zhao Shangfeng,Fu Jidi,Liu Fang,Rastogi Radhika,Zhang Jialiang,Zhao Yuanli*. Small interfering RNA directed against CTMP reduces acute traumatic brain injury in a mouse model by activating Akt..Neurological Research. 2014. 36(5), 483-490.
18. Li, Tao, Zhang, Jie, Liu, Rong-Yao,Lian, Zhi-Gang, Chen, Xiao-Lin,Ma, Li,Sun, Hao-Min, Zhao, Yuan-Li*.2013. The role of the sonic hedgehog signaling pathway in early brain injury after experimentalsubarachnoid hemorrhage in rats. Neuroscience Letters. 2013. 552, 81-86.
19. Ren, Z#,Chen, X#,Yang, J,Kress, B T,Tong, J,Liu, H,Takano, T, Zhao, Y*.Nedergaard, M*. Improved axonal regeneration after spinal cord injury in mice with conditional deletion of ephrin B2 under the GFAP promoter. Neuroscience. 2013. 241, 89-99.
20. Liu, Xingju, Zhang, Dong, Shuo, Wang, Zhao, Yuanli, Wang, Rong, Zhao, Jizong*. Long term outcome after conservative and surgical treatment of haemorrhagic moyamoya disease., J Neurol Neurosurg Psychiatry. 2013. 84(3), 258-265.
21. Wang, Hao, Dong, Hui,Kang, Cheng-Gui,Lin, Cheng,Ye, Xun, Zhao, Yuan-Li*. Preliminary exploration of the development of a collagenous artificial dura mater for sustained antibiotic release.,

Chinese Medical Journal

(English version). 2013.126(17), 3329-3333.
22. Chu, Chun,Huang, Xiaofang,Chen, Chiung-Tong, Zhao, Yuanli, Luo, Jin J,Gray, Brian D,Pak, Koon Y,Dun, Nae J*.In vivo imaging of brain infarct with the novel fluorescent probe PSVue 794 in a rat middle cerebral artery occlusion-reperfusion model. Molecular Imaging.2013. 12(1), 8-16.
23. Guo, Yi,Qumu, Shi-Wei,Nacar, Osman Arikan,Yang, Jin-Yan,Du, Jiang,Belen, Deniz, Pan, Lin, Zhao, Yuan-Li*.Human brain arteriovenous malformations are associated with interruptions in elastic fibers and changes in collagen content.,Turkish Neurosurgery. 2013. 23(1), 10-15.
24. Takano, Takahiro#, Chen, Xiaolin#, Luo, Fang, Fujita, Takumi,Ren, Zeguang,Goldman, Nanna, Zhao, Yuan-li, Markman, John D.,Nedergaard, Maiken*. Traditional Acupuncture Triggers a Local Increase in Adenosine in Human Subjects, Journal of Pain.2012. 13(12), 1215-1223.
25. Di, Fei,Chen, Tongyan,Li, Hongli, Zhao, Jizong*,Wang, Shuo, Zhao, Yuanli, Zhang,Dong. Imbalance of matrix metalloproteinase-9 and matrix metalloproteinase tissue inhibitor-1 may contribute to hemorrhage in cerebellar arteriovenous malformations, Neural Regeneration Research. 2012. 7(19), 1513-1519.
26. Zhao, Shangfeng, Fu, Jidi, Liu, Xiang,rong,Wang, Tony,Zhang, Jialiang, Zhao, Yuanli*. Activation of Akt/GSK-3beta/beta-catenin signaling pathway is involved in survival of
neurons after traumatic brain injury in rats, Neurological Research. 2012. 34(4), 400-407.
27. Jie Bai, Yuanli Zhao*, Rong Wang, Dong Zhang, Shuo Wang, Jizong Zhao, Jun Wu. Regional cerebral perfusion and ischemic status after standard superficial temporal artery–middle cerebral artery (STA-MCA) bypass surgery in ischemic cerebrovascular disease. Childs Nerv Syst. 2012. 28, 579-586.
28. Liu, Xing-Ju, Wang, Shuo, Zhao, Yuan-Li, Zhang, Dong, Zhao, Ji-Zong*. A single-center study of hemorrhagic stroke caused by cerebrovascular disease during pregnancy and puerperium in China,International Journal of Gynecology & Obstetrics. 2011.113(1), 82-83.

29. Wang, Shuo,Liu, Ling, Zhao, Yuanli, Zhang, Dong, Yang, Mingqi,Zhao, Jizong*. Evaluation of surgical microscope-integrated intraoperative near-infrared indocyanine green videoangiography during aneurysm surgery, Neurosurgical Review.2011. 34(2), 209-215.
30. Wu, Mingxing, Huang, Zheng, Zhang, Dong*, Wang, Lishu,Sun, Jian,Wang, Shuo, Zhao, Yuanli, Zhao, Jizong. Color Doppler Hemodynamic Study of the Superficial Temporal Arteries in Superficial Temporal Artery-Middle Cerebral Artery (STA-MCA) Bypass Surgery for Moyamoya Disease,World Neurosurgery. 2011.75(2), 258-263.
31. Jie Tang, Carol Chen, Yuanli Zhao*. Neurosurgery Center of Beijing Tiantan Hospital, Flagship of Neurosurgery in China,World Neurosurgery. 2011.75((3/4)), 377-382.
32. Zhao, Jizong*,Yu, Tao,Wang, Shuo, Zhao, Yuanli, Yang, Wu Yang. Surgical Treatment of Giant Intracranial Arteriovenous Malformations, Neurosurgery.2010. 67(5), 1359-1370.
33. Sun, Jianjun, Wang, Shuo, Zhao, Yuanli, Zhang, Dong, Kato, Yoko, Liu, Isabelle, Zhao, Jizong*. Intraoperative hemodynamic parameters of middle cerebral artery and other artery aneurysms utilizing transcranial Doppler ultrasonography, Neural Regeneration Research.2010. 5(11), 874-880.
科研项目
| 序号 | 项目名称(项目号) | 项目性质及来源 | 经费总额 | 起止年月 | 本人排名 |
| --- | --- | --- | --- | --- | --- |
| 1 | 阿托伐他汀钙维持未破裂脑动静脉畸形血管内皮结构稳定的研究(81771234) | 国家自然科学基金青年项目 | 54万 | 2018年1月-2021年12月 | 项目负责人 |
| 2 | 体外ALK1对人胚胎干细胞向血管内皮细胞分化的影响(2017A07) | 北京市百千万人才工程培养经费资助 | 6万 | 2018年1月—2020年12月 | 项目负责人 |
| 3 | 巨噬细胞介导炎症反应诱发脑动静脉畸形破裂出血机制研究(81571110) | 国家自然科学基金面上项目 | 57万 | 2016年1月-2019年12月 | 项目负责人 |
| 4 | 神经外科(脑血管)学科带头人 | 北京市卫生系统高层次卫生技术人才培养计划 | 90万 | 2014年12月—2017年12月 | 项目负责人 |
| 5 | NMDA缓释膜片对慢性脑缺血后神经突触可塑性调节作用研究(2014) | 国家自然科学基金面上项目 | 6万 | 2014年1月-2016年12月 | 项目负责人 |
| 6 | Predictors of Spontaneous Cerebral AVM Hemorrhage( NS034949-18) | 美国NIH R01合作课题 | 20万 | 2013年7月-2018年6月 | 项目负责人 |
| 7 | 酪氨酸激酶家族配体 EphrinB2 调控脑动静脉畸形血管生成的机制研究(81271313) | 国家自然科学基金面上项目 | 65万 | 2013年1月-2016年12月 | 项目负责人 |